When you are choosing a portable generator for your home, besides power and cost, a key thing to consider is how you are going to fuel it. Remember, during a long-term outage, with a typical use you would need to refill your generator daily. Most inexpensive portable generators are fueled by gasoline. This is fine for as long as you have an access to gas during an emergency. If a power outage is localized in a particular area, you may be able to drive elsewhere to fill your canister. Unfortunately, it is not always the case. During Winter Storm Uri of February 2021, more than four million people in Texas were left without electricity at freezing temperatures. Gas stations without power obviously did not have working pumps. In addition to this, fuel deliveries were delayed due to icy roads, and many refineries in Texas were offline. After Northeast blackout of 2003, entire East Coast of US was without power. In some areas, there was no power for almost three days. During this time, most gas stations in the affected areas did not work. After 2012 Hurricane Sandy, many oil refineries on East Coast were flooded and shut down. This resulted in lingering shortages of gasoline and long lines at the pumps persisting more than a week after the storm.
Therefore my advice is, if you want to be on a safe side, go for a dual fuel portable generator that can work on both gasoline and propane (LPG). Two big advantages of propane over gasoline are: you can store it indefinitely, and it is refilled without use of electricity.
Bi-fuel models may cost a bit more, but they can give you a peace of mind. In this class of the generators my pick is Westinghouse bi-fuel WGen9500DF.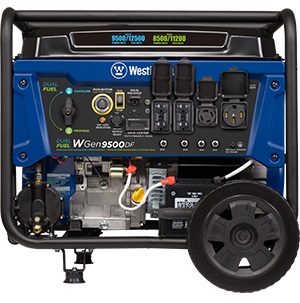 Here are the reasons I believe this model is the best portable generator of 2021:
Starting 12.5kW and running 9.5kW allows you to power most devices in your home;
Westinghouse is a major US company that has been around for 130 years;
3 year residential warranty (most other brands offer 1 or 2 year warranty). It also includes 1 year commercial warranty;
Electric start and remote start from up to 260 feet (not many models have this);
In addition to four 120 V 20 A duplex GFCI outlets, it provides two high-power 120/240V receptacles for easy connection to a transfer switch or generator cord: 30 Amp 14-30R and 50 Amp 14-50R;
EPA and CARB compliant, which means can be sold in California;
Selecting gasoline or propane operation with a single switch;
Data center to view voltage, frequency and total hours, as well as maintenance timer;
Various useful features, like battery charger and low oil shutdown.
NOTE: Westinghouse makes many different models, some of which are only gasoline-fueled. Watch for the letters DF in the model number for dual fuel models.
Because of its high popularity, and especially after a major disaster, WGen9500DF may happen to be out of stock. In this case, my second choice is DuroMax XP12000EH.
It has similar characteristics as WGen9500DF, also works on both gas and LPG, and has electric start in addition to manual recoil. It is only missing remote start, but if you have already rolled it to a place and connected the cables, being there and pushing a start button should not be a big deal.